Recently, CECC Beijing Equipment Company held a forum on hydrogen energy equipment development and a new product conference, announcing that the 1,500-square-foot alkaline electrolyser, which was independently researched, developed, designed and manufactured by CECC, was officially rolled out of the production line, marking the fact that CECC has comprehensively mastered the technology of core equipment development in the field of hydrogen production, and possesses the strength of developing high-power alkaline electrolyser and complete sets of equipment for hydrogen production system.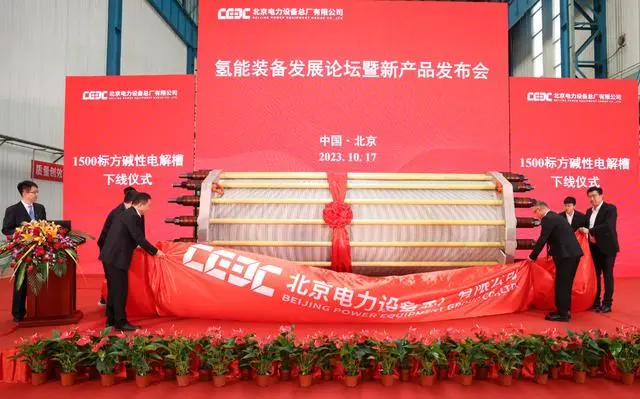 The electrolyser is designed to produce 1500 standard cubic metres of hydrogen per hour. Under the rated working condition, the DC energy consumption is 4.3 kWh per standard square of hydrogen, and the maximum hydrogen production can reach 2,000 standard cubic metres per hour, which has the features of safety, reliability, high power, low power consumption and high dynamic response, and a single product is expected to save 800,000 kWh of energy per year.
The 1,500-square-meter alkaline electrolyser is another important achievement following the completion of the first 8 MW alkaline electrolytic water-to-hydrogen generation unit steady transient test platform jointly constructed by Beijing Equipment Corporation, Tsinghua University and Tsinghua Sichuan Energy Internet Research Institute on 27th September. China Energy Construction Beijing Equipment Corporation will continue to promote the deep integration of production, learning and research through school-enterprise alliance, actively carry out hydrogen energy core technology research, continue to promote the development of safe, reliable, flexible and efficient hydrogen production system core equipment, and accelerate the development of hydrogen energy industry of China Energy Construction.
Note: This article is reproduced from China Energy Construction Beijing Equipment Corporation. Copyright belongs to China Energy Construction Beijing Equipment Corporation. If there is any infringement, please contact us to delete.