China's electric vehicle giant BYD (002594.SZ) has been on a tear in Southeast Asia, shooting past rivals including Tesla (TSLA.O) to take more than a quarter of the share of EVs sold in the region.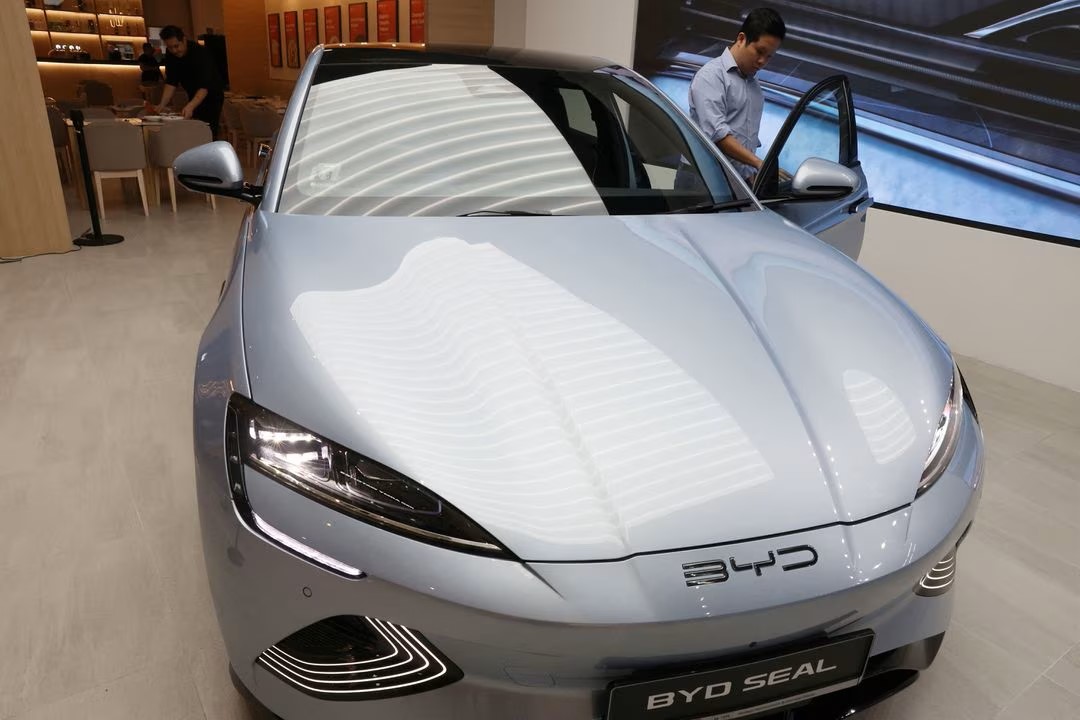 Along with attractive prices, BYD's early success is based on a pattern of distribution partnerships with large, local conglomerates that have allowed the carmaker to expand reach, test consumer preferences and navigate complex government regulations in the region, officials from three partners and analysts said.
This partnership model, similar to that pursued by Japanese automakers in some Southeast Asian countries decades ago, is helping BYD to build market share rapidly and contrasts with Tesla's go-it-alone distribution - though it comes at a cost.
"At present, BYD's primary focus is on brand proliferation rather than optimising profit margins," said Soumen Mandal, a senior analyst at Counterpoint Research.
"By providing local dealers with more lucrative profit margins, BYD can cultivate trust and loyalty, paving the way for broader expansion."
BYD did not respond to questions from Reuters.
The Chinese automaker sold more than 26% of all cars in Southeast Asia's small but fast-growing EV market in the second quarter of 2023 and its Atto 3 model, priced starting at $30,000 in Thailand, was the regional bestseller, according to Counterpoint. Tesla prices the most basic Model 3 from about $57,500 in Thailand.
EVs constituted 6.4% of all passenger vehicle sales in Southeast Asia in the second quarter, up from 3.8% in the preceding quarter, and the region could gain in importance for Chinese automakers after the European Commission last week announced an investigation into Beijing's EV subsidies.
'NOT AN EASY MARKET'
BYD's regional distributors include divisions of Sime Darby (SIME.KL) in Malaysia and Singapore, Indonesia's Bakrie & Brothers (BNBR.JK), Ayala Corp (AC.PS) in the Philippines and Thailand's Rever Automotive.
BYD's partnerships are helping it in a region where Chinese car brands do not have an established track record, said Chee-Kiang Lim, managing director for China at auto sales consultancy Urban Science.
"If buyers are unsure or have any concerns, partnering with established players like Sime Darby, Bakrie & Brothers, or Ayala Corp will give them the peace of mind, especially for aftersales support," he said.
The Shenzhen-based automaker is investing nearly $500 million in Thailand to build a new factory that will produce 150,000 EVs per year from 2024 for exports to Southeast Asia and European markets.
For Ayala Corp's AC Motors, which plans to open a dozen BYD dealerships in the next 12 months in the Philippines, the focus for initial spending is on brand building and getting more consumers considering EVs, said the head of its automotive business, Antonio Zara.
"It's about busting the myths on range," he said. "It's about busting the myth on price and communicating the total cost of ownership."
In Thailand, an advertising spree is visible from small screens inside elevated trains in the capital Bangkok to massive billboards in provincial towns.
BYD's Thai partner Rever did not respond to questions on its distribution and marketing strategy.
In Indonesia, BYD has able to lean on Bakrie & Brothers' unit VKTR to secure a government contract for 52 EV buses for Jakarta, said its chief strategy officer Alex Kim.
"Indonesia is not an easy market to do business on your own," said Kim, adding that, beyond government sales, VKTR was in talks with large domestic businesses to sell BYD EV buses.
TAKING ON TESLA
Thai EV buyers contributed 24% of BYD's overseas sales in the second quarter, making it the Chinese automaker's largest foreign market, according to Counterpoint, whereas fewer than 1% of Tesla's sales are in Southeast Asia.
Tesla's website currently lists only two stores in the region, both in the wealthy city-state of Singapore, though it is hiring for Thailand and Malaysia.
BYD's Southeast Asia playbook and its embrace of dealerships contrasts with Tesla, whose direct-to-consumer approach is hard to replicate, since no other new EV brand has its buzz or the outsized media presence of its CEO Elon Musk.
BYD and its partner Sime Darby Motors are experimenting with a new approach to draw young, tech-savvy consumers towards the Chinese brand in Singapore.
The partnership has launched five "BYD by 1826" showrooms that double as white-tablecloth restaurants where dishes are named after BYD EV models.
"With BYD by 1826, we are able to reach out to more customers who want to know more about BYD or (are) new to the BYD brand," said Jeffrey Gan, managing director of retail and distribution for Sime Darby Motors in Southeast Asia, Hong Kong and Macau.
($1 = 35.6400 baht)
Reporting by Devjyot Ghoshal and Stefanno Sulaiman; Editing by Jamie Freed
Note: This article is reproduced from REUTERS. Copyright belongs to reuters.com. If there is any infringement, please contact us to delete.